Beat Stress Now!
Audio CD Program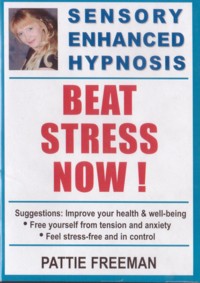 You too can learn – The stress management system!
The National Institute for Occupational Safety and Health (NIOSH) has recently acknowledged that the nature of work is changing at whirlwind speed. Perhaps now more than ever, job stress poses a serious threat to the health of workers and, in turn, to the health of organizations. In addition, stress had been known to cause family discord, financial troubles, professional difficulties and relationship issues.
This Stress Management Program allows you to immediately dissolve the stress you feel and provides a tool to handle future stress, in a healthy manner!
The Stress Management Program benefits include:
Tremendous calming effects
Deep relaxation techniques
Powerful ways to increase productivity
Enjoy a more healthy lifestyle
Stronger and meaningful relationships
Career focus
Increased personal satisfaction
Overall life balance
Learn how you can 'Beat Stress Now" by listening to this program.
NOTE: You will not be required to create a PayPal account to complete your credit card purchase. If you prefer not to process your purchase through PayPal, you can make your credit card purchase by phone.
To Place Credit Card Orders by Phone, Call 602-400-0653.